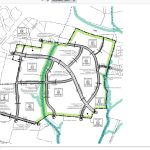 Charlotte City Council will meet tonight to discuss rezoning of many properties, but the two largest projects are both in the Lake Wylie area. It could be exciting to have new large projects in the area, but it can also cause traffic so many residents have mixed feelings about these big projects.
The first project up for a vote by the City Council is also the largest. At 184.9 acres, this Steele Creek project is expected to be approved as the Zoning Committee approved it with a  vote of 7-0 in favor. The petition for rezoning was filed by Steele Creek, LLC and involves property just south of I-485 and east of Steele Creek Road. Based on the filing, developers want a mixed use development with homes, offices, retail, and greenspace.
The next project before City Council is 102 acres located north of Mount Holly Road east of the Catawba River. This rezoning petition was filed by DHIC, LLC and Reventure Park Investments North, LLC. The proposed zoning change would make the land suitable for mixed-use, and innovation. The builders plans outline townhomes, apartments, community amenities, and a community boat dock. Staff recommendation is to approve the petition as long as transportation, environmental and site and building design issues are resolved.
Both projects have to go through the zoning approval process before they can get plans approved and break ground. It could be some time before units are available for sale or rent, but we will keep our eyes on the projects.
For more information on these new construction projects or about buying or selling a home in the Lake Wylie area, call us at 803-831-8588. You can view current listings and create custom searches on our website here.