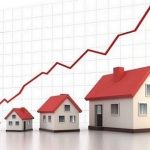 The trend of the last few months is persisting in the Charlotte Region at the moment and homes are staying on the market longer before a sale while selling for a little bit less than list price. This shows that sellers are willing to make concessions which is not something we were seeing last year at this time.
In addition to the longer time on the market, there are more homes on the market giving buyers more choices than they have had in a long time. There are now 4,667 homes listed for sale, up to a 1.3 month supply of inventory. This is a far cry from the 4-6 month supply which signals a balanced market between buyers and sellers. This means that we are still in the persisting sellers market.
From this same report from the Canopy Realtor Association, you can see data for the Lake Wylie area. When you look into the numbers, you see some of the same trends. Homes are staying on the market for an average of 41 days before going under contract. This is up 141.2% from the 17 day average last May.
Prices seem to be holding steady in Lake Wylie. Average sales prices are down just 0.1% to $604,508. Sellers are still getting an average of 98.6% of list price from their homes. We are seeing a slowdown in the market, which typically happens during the summer months, but didn't happen last year in the frenzy of sales before this slowdown.
This slowdown doesn't mean that now is a bad time to list your home. It just means that you have to be prepared that it could take a month or more before you get a contract on your home instead of getting multiple offers the first day.
If you are curious about what your home is worth or if it's a good time for you to buy, give us a call at 803-831-8588. We would love to share our perspective on Lake Wylie and the Charlotte area. You can view current listings and create custom searches on our website here.