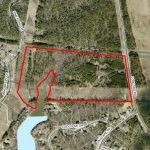 York County Planning Commission met on May 8th and approved the plat review for a new project. This project is known as Concord Cove and will be coming soon on Concord Road near Handsmill Highway. The new neighborhood will be just down the road from The Estates at Windswept Cove and Glades at Windswept Cove. For anyone looking for a new construction home on a large lot on a cove in Lake Wylie, this could be your chance.
Now that the plat review has been accepted, by a vote of 8 to 1, the next step of the project is to get the civil construction plan done. This will include a wetlands plan.  After that, utilities, roads, and sidewalks will be constructed. Once those are in place, homes will start to be erected.
The current plan calls for 34 homes on 46 acres. There are some easements for Duke Power that will take up 19 acres of the project. This means that 19 acres will not be developed so will be green space. The remaining 26.5 acres will have the homes and two new roads leading to a cul-de-sac. The community will share open space on the cove with direct access to the Lake, though not with a boat ramp. Residents will need to use public boat ramps or marina storage for watercraft. Lots should be around a half acre each. Home plans have not been drawn up yet, but could be large as the lots will accommodate larger homes.
If you are curious about what your home is worth or if it's a good time for you to buy, give us a call at 803-831-8588. We would love to share our perspective on Lake Wylie and the Charlotte area. You can view current listings and create custom searches on our website here.