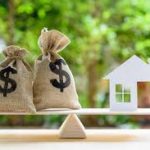 With the market going the way it has been, you keep hearing about homes selling the day they list with an all cash offer for above list price. The trend has been all cash offers winning bidding wars on listings with multiple offer situations. But, what is an all cash offer anyway? Does it mean lugging a suitcase full of bills to closing? Nope. It just means that the buyer can purchase the home without having to arrange a mortgage.
All cash offers are on the rise, with an increase from 15% to 25% of all home purchases over the last year. They are attractive to sellers because they don't have to worry about a deal falling apart because the buyer can't secure their funding. They can also get you to the closing table more quickly because you don't have to wait for a loan package to be put together.
For buyers, they are attractive because they make a stronger offer. This can be especially helpful for buyers who really love a property and want to make sure that they win a bidding war.
Does that mean that all buyers who have all cash offers have to provide all of the cash at closing? Nope, a lot of those buyers will end up mortgaging the property, or mortgaging other assets to pay for the property. There have been a lot of people who have had windfall events like an inheritance, cryptocurrency sale, or other event leaving them with cash as a powerful bargaining chip.
What an all cash offer typically means is that a home contract can have fewer contingencies. Without a mortgage company involved there is no mortgage contingency. An appraisal may not be needed either though it is required for lender financing.
All is not lost if you can't make an all cash offer. You can still make an attractive offer with tools such as personalized letters, removing contingencies, or offering above list price. Another strong tool right now is leasing the property back to the seller so they have a few months to find their next home.
For more information on buying or selling a home in the Lake Wylie area, call us at 803-831-8588. You can view current listings and create custom searches on our website here.