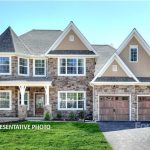 There are a few homes already listed for sale, and additional homes will be released soon in  the new construction neighborhood of Saybrooke. Builder Evans Coghill Homes through BSI Builders is offering 9 different floor plans, in styles ranging from traditional to modern farmhouse. Six custom homes are currently up for sale in the neighborhood, tucked next to the shores of Lake Wylie, with an additional 56 homesites coming soon on the 21.15 acre neighborhood.
These luxury homes are located just off Bankhead Road near SC-160 and SC-98 (Gold Hill Road), both of which will connect you quickly to the highway for an easy commute to Uptown Charlotte. Saybrooke is also close to McDowell Nature Preserve and Walkers Branch Greenway.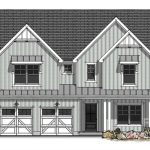 Homes in Saybrooke have all of the features buyers want now including home offices and lofts. Many of the homes have basement lots which could double your square footage if fully finished. This is ideal for anyone wanting a home gym, guest quarters, home theater, gameroom, or additional bedrooms and bathrooms. Homes feature large open floor plans perfect for entertaining.
The six homes currently listed for sale include 4 bedrooms and 2.5 bathrooms ranging from 2,000 to 3,600 square feet of living space. They all have at least a 2 car garage. Prices for these homes range from $451,000 to $990,013. This wide swing is due to size, features, and lot size and location. Some of these homes sit on waterfront lots on Lake Wylie so they will command a premium over interior lots.
If you want to know more about Saybrooke or about buying and selling homes in the Lake Wylie Area, call us at 803-831-8588. You can view current listings and create custom searches on our website here.