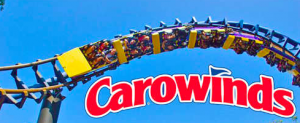 Plenty of job opportunities are about to become available in Fort Mill. Although the positions are temporary, they offer a fantastic opportunity to be a part of a major Carolina landmark and institution.
Carowinds, which sits at the border between North Carolina and South Carolina between Charlotte and Fort Mill, is a 398-acre amusement park that is a well-known favorite among locals and tourists alike.
The ever popular theme park will be filling over 4,000 positions ahead of the 2017 season, ranging from entry-level roles to managerial positions. The entertainment department of the theme park is looking for comedic actors and variety performers, as well as singers and dancers. Auditions for the theme park's live shows will be held on Saturday, February 4, Sunday, February 5, and Saturday, February 11, with registration taking place from 1-4pm.
Positions are also available for mascot characters as well as in admissions, cash services, food and beverage, guest services, human resources, marketing, maintenance and many more.
Carowinds is comprised of a variety of "mini parks" including a "County Fair" that has plenty of amusement rides and four new attractions that were added this year. Winterfest at the park pays tribute to the holiday season in a winter wonderland setting. Carolina Harbor is touted as one of the best water parks in the country with attractions for kids and adults alike. Cirque Imagine features highflying fun with incredible displays of strength, balance, athleticism and beauty in the Carowinds Theater.
For further information on the job openings available, be sure to check out Carowinds.jobs, or read the full article at Heraldonline.com.