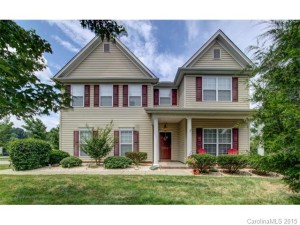 The mature neighborhood of Bethelfields located in York has great amenities, location and school zoning.
Homes in Bethelfields were built in the early 2000s by a variety of builders such as Lennar Homes, Don Galloway and K. Hovnanian Homes.
The neighborhood is on the western shore of Lake Wylie near the intersection of highways 55E and 274 (Hands Mill Highway). A small farm separates the neighborhood from the roadway and gives the majority of the homes in Bethelfields some setback from road noise.
It is about 45 minutes to both the airport and Uptown depending on the route and traffic and is convenient to both Rock Hill and Gastonia. Just north of Bethelfields at Highway 557 are many dining and shopping options, a Wal-Mart Super Center and Lowe's. The local coffee shops, Crowders Creek Coffee Co., is just a 1.5 miles down the road for a cup of fresh-roasted fair trade coffee.
Inside Bethelfields, the amenities include a pool, 3 playgrounds, picnic tables and sidewalks throughout. There is also storage available to residents for boats, trailers and RVs. Lake access is conveniently located 5 miles south at the Allison Creek ramp.
Homes are reasonably priced in the high $100,000s to mid- to high-$200,000s. Most of the homes are size from 2,100 to 3,100 square feet.
The average sales price of a Bethelfields home during the last 12 months is $227,512 and about $86 per square foot.
Approximately 1.4 homes sold each month in the neighborhood during the last year. Currently, there are 4 homes listed for sale in Bethelfields, which given market data for the last year, is 2.8 months inventory.
York has nearly 11 months of inventory, and York County has nearly 7 months of inventory. Bethfields is still very much a seller's market at its current inventory.
Home sales average just over 97% of list price in the neighborhood.
Bethelfields is zoned in the desirable Clover School District for Bethel Elementary, Oak Ridge Middle School and Clover High School.