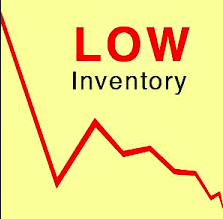 A sellers market continues to prevail in Lake Wylie as well as in the entire Carolina MLS area.  June's market update from the Charlotte Regional Realtor Association indicates a massive drop in the month's supply of inventory, down 31.8 percent  from the 2015 June numbers. There was also an 8 percent  increase in the average sales price of homes, and an increase in sales price is a typical result of low inventory. Furthermore, the median sales price of homes has been steadily on the rise since 2012 and the trend is continuing.

Fort Mill's inventory is also down from June of the previous year, however only by 13 percent. Lake Wylie's inventory is down 29 percent, and York County's inventory as a whole is down 28.9 percent.
Closed sales in York County, Lake Wylie, Fort Mill and the entire Carolina MLS area were down for June. However, Lake Wylie saw a lot of activity last month, with pending sales up over 52 percent from the year prior.  Fort Mill's pending sales were up over 34 percent , and York County's pending sales were up 32 percent. There was definitely a lot more action in June 2016 than there was in June 2015, also indicating a strong seller's market.
With strong sales as well as a steady drop in inventory in the region, the average sales price continues to rise and sellers are seeming to have the upper hand.
June's regional stats are fairly indicative of national real estate numbers. Inventory is low in many major markets across the country and housing prices are climbing.
Stay tuned for next month's market update and a look at the region's trends.