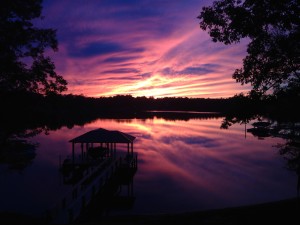 Allison Creek Peninsula is surrounded by Big and Little Allison Creek inlets, two recreational hot spots on beautiful Lake Wylie. Palm Cove and Palm Cove II are just 2 of the 4 adjacent communities on the peninsula worth considering if moving to the lake is on your to-do list!
The communities offer a mix of custom homes and production homes. Palm Tree Cove II is still being built out and has only new construction homes for sale, while there are a mix of new construction and resale in Palm Tree Cove.
Palm Tree Cove II homes start in the $200,000s, and Palm Tree Cove homes are a bit pricier, averaging closer to $300,000 on the low end and upper $400,000s on the high end.
Currently, there are 4 homes on the market in Palm Tree Cove, 2 new construction and 2 resale. One of the new construction homes is under contract, as of Jan. 19. The prices range from $576,000-plus to $385,000.
In Palm Tree Cove II, there are 7 new construction homes on the market. The highest list price is nearly $400,000 and lowest is in the $270,000s. None is under contract.
The location of the communities cannot be beat! Access is easy from Highway 274 onto Allison Creek Road. There is a public access point with a boat launch and day dock that many of the peninsula homeowners use. Shaded sidewalks connect all the communities along Allison Creek Road.
The peninsula offers a diversity of homes from custom homes in Mariner's Bluff or Mariner's Watch Cove – the other two neighborhoods that share the peninsula – and homes outside the 4 subdivisions that could be a small cabin or a waterfront mansion.
Winter is the perfect time to dream about summer fun on the lake. If you're thinking of moving then you can't go wrong with a home on beautiful Allison Creek Peninsula!