Just south of the Buster Boyd Bridge on the North Carolina side of Lake Wylie is the awe-inspiring 1,500 acre master-planned community of The Palisades, where Mother Nature and modern lifestyle peacefully coexist.
The Palisades actually comprises 15 different named neighborhoods built by one of the community's 5 builders. Outside your front door is all Lake Wylie has to offer in the way of water sports and fantastic views. In addition, there is a residents club, country club and golf course and recreational facilities.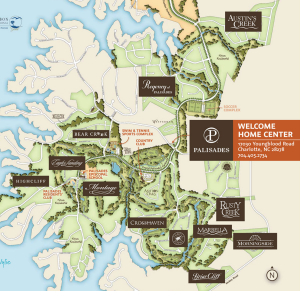 The effort to preserve nature, green spaces and watersheds earned the community an Audubon International Certification. Residents can enjoy that nature on the community's numerous trails.
Home prices range from the low $200,000 area to well over $1 million. There are new homes and lots on the market as well as previously occupied homes. The Palisades offers a limited number of waterfront homes sites.
As of Jan. 7, there are 74 homes on the market in The Palisades, 23 of which are under contract. Many of the homes listed are new construction.
During the last 12 months, an average of 7.1 homes sold per month in The Palisades. Given the number of homes currently for on the market, that is more than 10 months inventory. Nearby Riverpointe has about the same amount of inventory. Charlotte and Mecklenburg County each as 3.8 months inventory.
The average sales price in The Palisades during the last 12 months is just over $463,000, with an average price per square foot of $113.12.
The highest price of a home sold during the last year is $950,000; the lowest sold for $268,700.