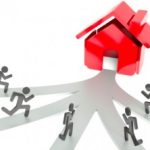 The start of the new year is always a time of reflection. Looking back at the year in Real Estate is a good way to see where we are and where we anticipate the market is heading. Predictions are imprecise at best, but we can show you the yearly trends and give a possible scenario for the future.
When you look at the Lake Wylie area, if you look at the trend over the previous few years, you can see that there are more new listings now than ever before. In 2013 there were just 1,056 new listings all year and in 2018, there were 1,656. This increase reflects the boom in the area with new construction, renovations, and the growth in the area.
Closed sales have gone up as well which shows more of the story of the population boom. In 2013 just 646 homes closed. In 2018 there were 1,227, an increase of 581 homes. When you look at the entire Charlotte area, the increase is much larger over the course of those years, 13,220 more, but the region has grown  a lot over that time and the MLS data also includes surrounding counties now and it did not before.
Prices of homes are one of the more dramatic areas of growth over the time between 2013 and 2018. In 2013 the average home in Lake Wylie sold for $327,130. In 2018 the average Lake Wylie home sold for $397,957, and increase of just over $70,000 in just 5 years.
When you look at the shorter trend, comparing 2018 to 2017, you see that Lake Wylie is not seeing the slump that the rest of Charlotte is seeing. Lake Wylie has had gains in new listings, pending sales and closed sales. In comparison, Charlotte as a whole has seen declines in all three. It remains to be seen if Lake Wylie will see the slowdown that has been evident in the region as a whole. The Lake is a huge draw so it will probably see the slowdown much later than the rest of Charlotte, if it sees it at all. Looks like the Lake is a good bet for the foreseeable future.
If you would like to own a home in Lake Wylie, give us a call at 803-831-8588 to schedule a private tour of homes. You can view current listings and create custom searches on our website.