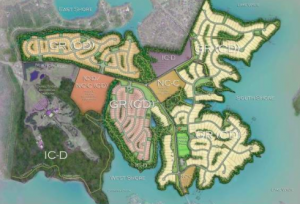 McLean is one of the most talked about and highly anticipated residential developments in Belmont, North Carolina on Lake Wylie. The 670-acre development covers five miles of shoreline along the border between North Carolina and South Carolina.  The community will include 800 homes, as well as a marina with a waterfront restaurant, a public park, 10 new miles of trails that will connect to already existing trails, and a pool clubhouse in each of the three primary neighborhoods of the subdivision.
The current breaking news on the development regards the 37 of the 800 new homes that dip into York County in South Carolina. While York County has already approved the plans for this part of the neighborhood, The company behind the new development project has asked for an extension, as currently construction is only allowed to continue through August 10 of this year. County planning staff is recommending a one year extension to guarantee completion within a preapproved time frame. Because these York County homes will have no access from York County, the roads, water and sewer infrastructure will be served by Belmont, as this is where the majority of the development sits.
The three primary neighborhoods of the development are South Shore, the Conservancy, and Overlake. Construction on South Shore homes has already begun and homes in the neighborhood will range from approximately $400,000 to over $1 million. Homes in the Conservancy are slated to be ready this spring and start at approximately $240,000. Home construction in Overlake is not slated to begin until later this year,  and the marina will be built as part of a much later phase. The entire McLean project, which includes not only the homes but also the marina, restaurant, park, trails and more is not expected to be completed in its entirety for approximately 8 to 10 years.
For more details on the McLean project in Lake Wylie, be sure to read the full article at CharlotteObserver.com.