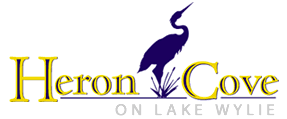 Let's check in with Heron Cove on Lake Wylie, a private residential community that features beautiful custom homes on a quiet peninsula. Lot sizes here are generous and the neighborhood focuses on preserving the serene quality of the area. Homes average approximately 4,000 square feet and are new-construction masterpieces. They are beautifully charming and immaculately designed with so much attention to detail.
Many homes include impressive features such as arched windows, coffered ceilings, hardwood flooring, recessed lighting, and gourmet kitchens with stainless steel appliances, granite and more.
The neighborhood features a community pool as well as a waterfront park on Lake Wylie where residents can enjoy swimming, fishing, camping, kayaking or picnicing along the shore. There are also plenty of walking trails as well as a children's park in the neighborhood. Moreover, residents of Heron Cove can take advantage of the Clover School District, which boasts some of the best schools in the state.
Heron Cove currently has eight homes on the market, which represents 8.7 months of

inventory. Thus, the neighborhood is trending towards a buyer's market, especially compared with Lake Wylie and York County overall, which feature 4.6 months and 3.8 months of inventory, respectively.
Furthermore, there has been a drop in the average price per square foot as well as the
average sales price in the last six months, which bodes well for buyers.
This is a stunning neighborhood on beautiful Lake Wylie that you don't want to miss!