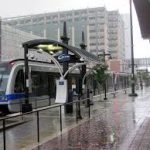 County leaders for York County recently met to consider proposals for extension of the Lynx light rail system in Charlotte. They heard four small area plan proposals with one potentially serving the Lake Wylie area. This could be great for bringing in commuters and reducing traffic. It could also bring a lot of day-trippers for weekend fun on the lake.
The light rail plan proposals are a way to look at the area in a different way. This means that leaders have to look at how the light rail may affect properties in the proposed path, look at supporting infrastructure, and look at opportunities for how development patterns may change. There is also a potential that the light rail could head to Rock Hill as well which could be a place to park and ride until a Lake Wylie corridor comes to fruition. The Rock Hill connection is especially likely as the Charlotte Panthers just announced that they are building a training facility there.
There are many more steps to take after the proposals are laid out. There are traffic studies, land acquisition, and much more. There will be interstate cooperation by North and South Carolina. There will be funding hurdles and bureaucratic hurdles to be cleared, but it is an exciting prospect for many people.
If you are interested in buying or selling a home in the Lake Wylie area, give us a call at 803-831-8588. To create custom searches and view all current listings, click here.
To read more about these proposals, visit the Herald Online here.