Heron Cove is a beautiful neighborhood on a quiet peninsula of Lake Wylie, offering all the peacefulness of the lake along with many neighborhood amenities and local activities. The neighborhood has large plots of land to fully take advantage of the surrounding woodland and lake.
One of the best amenities of Heron Cove is its Waterfront Park. There, residents can swim in the lake or fish from the shore. There is even a storage rack for residents' canoes. In addition to activities on the water, the park is the perfect place for picnics or barbecues and even has a fire pit. For children, there is a separate park filled with many family friendly options for kids. The Heron Park Swim Club is also a popular option for residents to socialize and swim.
Heron Cove is in Clover School District, one of the best districts in South Carolina which is also a big plus for families. Residents are able to enjoy the lower taxes of South Carolina while the city life of Charlotte is just minutes away.
Currently there are 7 homes on the market in Heron Cove which represents 7 months of inventory. This means that Heron Cove is leaning towards a buyer's market compared to the more balanced market of Lake Wylie as a whole.

In the last year, the average sales price of homes and average price per square foot has slightly increased.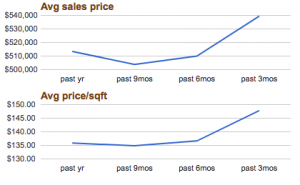 With so many local and neighborhood amenities, Heron Cove is definitely worth checking out for your next family home!