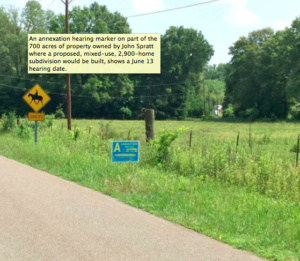 Fort Mill is undergoing quite a bit of development as 2,900 more homes and apartments are planned along Spratt Street and Fort Mill Parkway. John Spratt, who owns more than 700 acres at the site, presented a plan with partners on Wednesday night to the Fort Mill Town Council to add residential, commercial and recreational space in a new mixed use development there.
The hope is that such land development will be part of the solution to continue to develop and improve Fort Mill, and it will contribute to securing its future. The plan would take over approximately 688 acres along the bypass. The land there would be rezoned from light industrial to mixed use in the town. Another 23 acres currently zoned for residential use would be rezoned to mixed use. Then a development agreement would allow for up to 1,700 single-family homes, up to 1,200 "other residential" units, between 250,000 and 500,000 square feet of commercial space, more than 60 acres of park and recreation space, more than 60 acres of open space and approximately three acres to expand the nearby wastewater treatment plant.
The plan would not happen overnight, as a 20-year buildout is anticipated with the hopes of selling the land to a developer in early 2017. This huge and record-breaking development project could potentially bring about 900 more new residences than is currently provided by the Massey and Waterside subdivisions combined.
As a means for controlling traffic and a need for more schools with so many new residences, the planning commission is recommending to require at least 15% of the residences be age restricted to seniors.
Town Council will have the final say on the annexation of the land, the rezoning and development agreement at a public hearing expected to take place on June 13.
Previously proposed large residential projects met with opposition because rezoning without  annexation would impact the town without providing tax revenue. This proposal, however, is different, as the largest part of the project is zoned light industrial, therefore not allowing for residential use. However, there is still some proposed zoning for residential development, which many are happy to see. Residents in particular are looking forward to more athletic field space as well as the opportunity for property owners to develop land how they see fit.
The plan still needs a little bit of tweaking, as well as approvals from Town Council and the public hearing. But all in all, it is looking good for Fort Mill.
For more details on the project, read the full article at heraldonline.com.