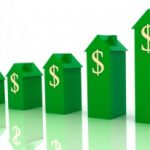 More than half of the year has already passed us by, and the real estate numbers for Lake Wylie look good. In fact, only three areas, Mt. Holly, Moresville, and Harrisburg, had a larger increase in closings. This is great news for current homeowners in the area as they can expect to see a stable market for equity in their homes as well as for resale values. It can be challenging for buyers as it means that the market is strong so finding a home can be tricky.
Lets dig into the numbers a bit, all numbers we are looking at are Year-to-date from January to June and we are comparing 2018 to 2019. All of these figures come from the Multiple Listings Services, Inc which is owned by the Carolina Regional Realtor Association. In 2018 there were 601 home sales that closed. During the same period of 2019, there have been 656. This increase of 55 closings represents a rise of 9.2%.
New listings and pending sales are indicators of how the market will do for the next few months as those will head towards the closing table. In 2018 there were 954 new listings. In 2019 so far there have been 1,019. This is an increase of 65 listings or 6.8%. Pending listings were 677 in 2018 and are at 826 in 2019. Increasing by a whopping 22%, this represents 149 additional pending sales.
Price is the other big factor when comparing data from year to year. One waterfront sale can make a big difference in numbers as the sample size is smaller and can be skewed. In 2018, the average price for a home sold was $395,023 and in 2019 it is $396,509. This is a modest increase of just $1,486 which is just a 0.4% increase. Homes are selling a little bit quicker as well, in just 121 days from list to close. This is a whole week quicker than 2018 at this time.
It appears that the Lake Wylie area can expect the real estate market to remain strong at least for the near future. If you are interested in buying or selling a home near or on Lake Wylie, give us a call at 803-831-8588. You can view current listings and create your own custom searches on our website here.