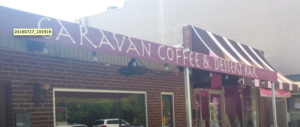 Belmont continues to get an influx of new restaurant openings. However, let's not forget about the staples here. Caravan Coffee and Dessert Bar has been a part of the Belmont community for almost 13 years and is a go-to place for a cup of coffee, delicious dessert, or even a smoothie.
The space includes a great outdoor patio with a view of Stowe Park, where you can relax while Vince Hill, the owner, runs the coffee shop and his wife, Brenda, the pastry chef behind the deliciousness, whips up desserts.
Caravan Coffee and Dessert Bar offers a hometown feel and a local vibe. The shop offers incredible specialty house recipe coffees, including Banana Nut Crunch, Caramel Apple, Peppermint Patty and the Coffee Toffee Freeze. You also can't miss the lemon pound cake, chocolate layer cake or carrot cake. And if a slice is not enough, you can purchase a whole cake next door at Brenda's Cake Gallery.
Aside from the coffee shop, the owners are also known for bringing fun and free community activities to Belmont, including the popular Friday Night Live concerts and the Downtown Christmas Village. You can check out the Friday Night Live concerts every other Friday evening May through August on the Main Street. The Downtown Christmas Village includes horse drawn carriage rides, carolers and food vendors also on the Main Street and originated right outside of the coffee shop, where it was appropriately named "Christmas at Caravan."
Caravan owners also helped co-create the summer Sizzlin' Cook-Off, where local grillers are judged on their recipes for chicken, ribs and pulled pork, and the festival will take place this year on September 9th and 10th.
For more details on the sweets and coffee at Caravan, check out the article at charlottefive.com.