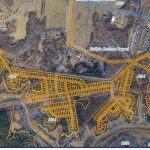 County planners for York County, SC met on August 1 to review new housing developments. One of the most exciting projects is for a proposed 224 acres that spans from Bethel School Road all the way to Crowders Creek. This is right behind existing homes in Paddlers Cove and the new sports park which is underway. This plan would be on the south side of the creek. This development is in the initial stages of the process and is under review for the preliminary plat and permitting at this point. As we find out more details we will publish them.
The second major development that was discussed was Meriway Pointe with developer Walton Development. They have asked for another extension for their plan for 449 homes on just about 213 acres on the North of Crowders Creek. These extensions are not uncommon and property owners can request up to 5 each year while in the process. This would be the third extension this year on this particular project.
It looks like getting connected to utilities, specifically water and sewer is the holdup at this point. There are some capacity issues that need to be ironed out that are causing delays. They should be resolved soon and the development schedule will be going once again.
Keep in mind that these projects are proposed and could run into substantial hurdles in the days ahead. Additional issues can always crop up as part of any project, large or small. Some or all of the plans could be altered or eliminated as part of the process.
To read more about these neighborhoods and the planning stages, see the full story in The Herald Online here. To schedule a tour of homes in the Lake Wylie area, call 803-831-8588. To view all current listings and create custom searches, click here.