Handsmill on Lake Wylie is a secluded, gated community located right on the shores of scenic Lake Wylie. The neighborhood is close to the state line, making it only a 30 minute drive to the city amenities of Charlotte. There are 20 square miles of lake for residents to enjoy, where they can reach the water from one of two private marinas and boat ramps. There are also many amenities away from the shore including walking trails perfect for spotting local wildlife. There is also a clubhouse with a Jr. Olympic sized swimming pool, fitness center, kids pool and play area, and an outdoor patio with fireplaces.
Just a 30 minute drive away, is the busy city of Charlotte which offers shopping, dining, and cultural options. For those that don't want to go all the way to Charlotte, York County itself has plenty of options to explore, including one of several properties listed on the National Register of Historic Places. There is also a new children's museum in the area as well as additional opportunities to see local wildlife in Kings Mountain State Park.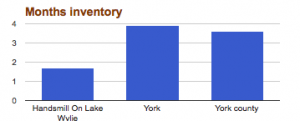 Currently there is 1 home on the market so the neighborhood is in high demand. This represents 1.7 months of inventory, making the neighborhood a seller's market. This is comparable to York County as a whole, which is also more of a seller's market.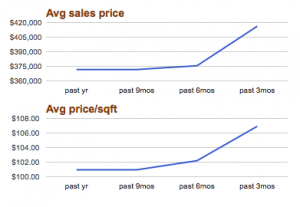 In the last year the average price of homes have increased substantially but the average price per square foot has only increased slightly. Homes are currently on the market for around $575,000 and all homes are designed with modern finishes.
With its secluded feel and proximity to so many local and city amenities, Handsmill on Lake Wylie is the perfect place for a family home.