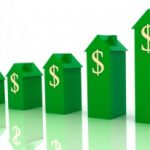 Home prices are still on the rise in the Charlotte area. This is in contrast with the rest of the nation where there has been a cool down in prices. This information was published by Case-Shiller from their S&P CoreLogic Report. It's hard to know how long prices can go up, but they don't appear to be stopping yet. This can be a boon to sellers, but can spell trouble for buyers who can get priced out of the market.
The Carolina Regional Realtor Association published numbers for June based on data from the Multiple Listing Services, Inc. Based on their data, average sales prices in the Charlotte region were up 7.1% year over year from $302,011 to $323,316. When you look at year to date number, they are also up 4.3% from $287,358 up to $299,703.
The Charlotte region also had a dip in sales, decline in inventory, and a slight decline in new listings. Pending listings were up 16.3% so there is hope that there will be strong sales numbers next month as many of the pending listings head to the closing table.
When you look at the numbers for Lake Wylie, average sales prices were up 3.9% from $382,553 to $397,428. Pending sales and new listings were both up, 25.9% and 14.5% respectively. This indicates that Lake Wylie sales are still strong despite lower inventory, down to just a 3.5 month supply.
Closed sales for homes in Lake Wylie were just about level with last year at the same time. Homes are selling more quickly than last year at this time. In June of 2018, homes were on the market for an average of 113 days from listing to closing. In June of 2019, homes were on the market for an average of 108 days from listing to closing, a decline of 4.4%. These homes spend an average of 58 days on the market before they were under contract.
If you are in the market to buy or sell a home in the Lake Wylie area, give us a call at 803-831-8588. If you would like to view current listings and create custom searches, click here.