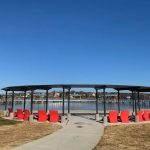 One of the gems of Lake Wylie is about to reopen after extensive renovations. Ebenezer Park is located on the southern shores of Lake Wylie and has 12,400 acres of land in Rock Hill, South Carolina. The park has many different features, but of course, water based activities are the highlight of the park.
The park has extensive facilities for camping, boating, kayaking, canoeing, playground, volleyball, basketball, fishing, and swimming. Picnic shelters, swings, and benches are all along the waterfront. There are great views of the main channel of the lake perfect for sunrises and sunsets. There are 67 fully equipped campsites with water, sewer and electric hook-ups. Wi-Fi coverage available through most of the park.
Updates to the park include a 10,000 square foot pier with covered shelters, an enlarged and dredged swimming/beach area, and additional boat slips for loading and unloading or watercraft. A multipurpose building was built to accommodate concerts, movies in the park, and special occasion rentals. A new boardwalk was constructed at the Ranger Station with park benches and new trails were built through the woods. Basketball and sand volleyball courts were added, and the parking lot was redesigned with angled spaces for watercraft trailers. An arbor entrance was constructed with beach chairs. All in all, $4.6 million of renovations are almost complete.
The reopening celebration is scheduled for Saturday, May 1st, 2021 from 11 am until 1 pm. Activities will include a ribbon cutting, live entertainment, music, and more. The park is located at 4490 Boatshore Road, Rock Hill, SC for map directions. Special Covid protocols may be in place, please check the York County website for the most updated information including inclement weather announcements. You can also call the park office at 803-366-6620.
If you are ready to buy or sell a home in the Lake Wylie area, call us at 803-831-8588. You can view current listings and create custom searches on our website here.
To read the full story in the Herald, click here.
To see the York County press release, click here.