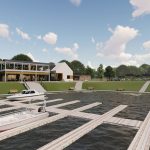 The long wait is almost over. The day after Mother's Day is the official opening of Drift restaurant on the waterfront of Lake Wylie. Drift will bring steak, seafood, and pasta to a great large space with a dining room, two patios, and drive-up boat access.
We first told you about Drift in February of this year in this post. We detailed the two story space that will have a modern farmhouse style featuring craft beer and a selection of over 1,000 bottles of wine. The upstairs will be an event space available to reserve for private parties and corporate events.
Drift is brought to you by the owners of Pump House in Rock Hill and Napa at Kingsley in Fort Mill. This dinner with a view will be great for local residents, but will also be a draw for anyone in the Charlotte area with only a 30 minute drive to be back Uptown.
Drift will seat 280 people and has an indoor/outdoor dining experience due to glass walls that can be moved out of the way to take advantage of east-facing waterfront views. In inclement weather, you can watch a storm roll in through the glass wall, but be snug inside.
Drift is located in the McLean development close to Daniel Stowe Botanical Garden. For directions, the address is 315 Lanyard Lane, Belmont, NC 28012. Initial hours will be M-Th 4pm-10pm, Fri-Sat 4pm-11pm, and 3pm-9pm on Sunday. As the restaurant is more established they may begin brunch on the weekends and start lunch service during the week.
If you want to know more about homes in the Lake Wylie area, call us at 803-831-8588. We can help you with anything you need to buy or sell a home. You can view current listings and create custom searches on our website here.