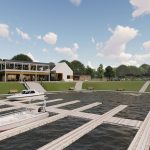 The big story to hit yesterday is Drift on Lake Wylie Restaurant coming to the waterfront of Lake Wylie. Brought to you by the owners of The Pump House, Drift will bring steak, seafood, and pasta to the lake with a dining room, two patios, and drive-up boat access.
Drift will be a contemporary style chophouse located at McLean Marina in Belmont near the Daniel Stowe Botanical Garden. The building is a modern farmhouse/barn concept which harkens back to the farming roots of the surrounding area, as well as looking forward to the modern future. The second floor will be available for events and private parties.
The owners of the restaurant are also known for The Pump House in Rock Hill, and Napa at Kingsley in Fort Mill. If you like those, you'll love Drift. Besides the seafood, steaks, and pasta, they will feature craft beer, and a selection of over 1,000 bottles of wine.
This exciting new space will be a big draw for the area which currently only has Papa Doc's as a boat accessible restaurant. Papa Doc's is in the space that was formerly T-Bones. The feel of the new restaurant will be a little less casual with a more upscale menu than Papa Doc's so they won't be direct competition.
The restaurant will open this spring and will initially only be open for dinner service. As the summer comes in, expect them to open for weekend lunches, and possibly more times as needed.
For more information or to apply for a job at the restaurant, visit www.driftlkw.com
For more information on buying or selling a home in the Lake Wylie area, call us at 803-831-8588. You can view current listings and create custom searches on our website here.