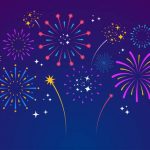 Independence Day is coming soon so it's the perfect time to decide where you will watch fireworks. With a rumored shortage of fireworks, large displays may be all you can find this year so you want to get the best bang for your buck. Here are some of the best in the area, and pardon us for being biased, but the fireworks on Lake Wylie are probably the best.
Lake Wylie – grab a view of the water from near or on the Buster Boyd Bridge for the best views. Bonus, get there early and get a table at Papa Doc's or Rey Azetca or other neighborhood spots with decks or patios. Extra bonus, on a boat in the water. The fireworks will start around 9:30 and are launched from Camp Thunderbird. This event is free, but donations are accepted.
Carowinds – July 3 & 4, catch fireworks and patriotic music at Carowinds as part of daily admission. Reservations are required online for entry and most days are sold out with limited tickets each day due to Covid protocols. Daily passes start at $42. Fireworks start at 8:45pm.
US National Whitewater Center – July 3 & 4th. This event features yoga, fireworks, live music and activities. Cost is $6 for parking then free. Event runs 9am to 9:30pm with fireworks closing out each night.
Red, White & Boom – July 3rd – This annual event in Rock Hill, SC is great for families with young children. There are inflatables, food trucks, and music provided by Groove Machine and Kids in America. Event runs 4pm – 10pm with fireworks starting at 9:30pm.
Gastonia's Fourth of July Festival – 4 pm until 9:30 pm enjoy food trucks, live music, vendors, and of course fireworks. For the adults, there is also a beer garden.
There are more fireworks shows around the area, some in Uptown Charlotte, and areas around Charlotte as well. For more information on those other shows, see this article from The Charlotte Observer.
For more information on buying or selling a home in the Lake Wylie area, call us at 803-831-8588. You can view current listings and create custom searches on our website here.