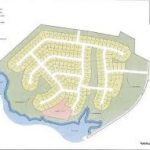 There are some projects that are in the planning stages in the Lake Wylie area that have us pretty excited. York County Council is working with developers and builders and the community to make sure all parties are in agreement on these projects. There is still more opportunity for plans to be amended, but here is what we know so far.
Vista at Lake Wylie has put forth a third proposal for development on 179 acres at SC 274 and Pole Branch Road. The first two plans called for 178 homes on the parcel. Owner Marsh Realty Co and developer MT Land have altered the proposal which now includes 89 homes. The project was held up in 2017 due to traffic concerns and relocations/modifications to a few intersections. The major highways that serve the area currently receive failing grades to meet the increased traffic demand. If approved, this project could be great for the area. Plans are said to include two entrances as well as lake access.
Another plan in the works is from Bonterra Builders. They bought almost 33 acres on SC 557 and are working on a plan for permitting. The site is just beside Oakridge Middle School. No word yet on the name of the project or how many homes they expect to build there. The location is great however so we are excited to see what they have planned.
If you are interested in a home in the Lake Wylie area, give us a call at 803-831-8588 or visit our website to view current listings and create custom searches.