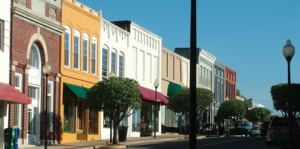 A lot of commercial real estate development is about to be underway in Fort Mill on Main Street. Definitive plans are still in the works and there is no confirmation as to the details of the storefronts, however significant change is on the way.
The corner of Main Street and Confederate Street is home to six parcels of land, as well as a parking lot, all on three quarters of an acre.
Current storefronts include the former Knife Shop, Halcyon Hills Photography and Dave's Comics. The 8,000 square feet of retail space and has been for sale for a while now, and three of the four properties listed are currently under contract.
The owner of the Knife Shop unfortunately passed away earlier this year, thus the store is closed and not reopening. Dave's Comics is still open and has not received notice of needing to vacate, however the store's s website discusses closing and talks about a new comic book store that will be potentially opening nearby. Another comic shop is also opening off Main Street this fall, called Nikelspot Comics.
In recent years, Main Street in Fort Mill has seen the addition of restaurants and retail space, as well as new businesses and apartments within walking distance. The sale of and construction on the property at the corner of Main and Confederate Streets would mark the beginning of the next wave of redevelopment here. Plus, earlier this summer, Old Center Theatre on Main began undergoing a major conversion that will ultimately become more than 6,000 square feet of loft style offices and nearly 7,000 square feet of either retail or restaurant space.
For the full article on the Fort Mills Main Street redevelopment, check out heraldonline.com.