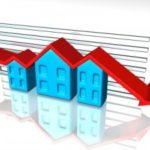 If you look at the entire Charlotte Region, you get a little bit different picture of the real estate market then if you look at just Lake Wylie. In the entire region, sales have dropped by 15.3% year over year. New listings were down 10.5% and pending sales were down 6.6%. They were down year over year and year-to-date though not as dramatically. The supply of homes is now at a 2.5 month supply, and these homes spent less time on the market before going under contract, just 36 days. The only thing going up were prices, up 5.2% from this time last year.
These numbers are from the monthly report by the Charlotte Regional Realtor Association and are based on the data from the Carolina Multiple Listing Services, Inc. President of the CRRA Jason Gentry said "Without a doubt, sales in September were affected by Hurricane Florence, as local Realtors and community volunteers mobilized to assist homeowners who were reeling from flood and wind damage. The impact of the storm, just off the heels of weakened summer sales, helped to depress sales locally."
When you look at just Lake Wylie, the picture looks similar, though with a few important differences. Sales were dead even from this time last year with 106 homes sold in the month of September. This is encouraging as Lake Wylie did not see the same drop as the rest of the region.
Pending sales were down substantially as were new listings so we may follow closer with the entire region next month. There were 67 pending sales this September compared with 90 last September. This is a decline of 25.6% and could signal a severe drop in closed sales next month. New listings were down to 107 from last year's 132, a drop of 18.9%. This at first appears grim, but year to date, pending sales are up 8.3% over last year and new listings are up 7.9%.
The supply of homes in Lake Wylie is down to a 4.2 month supply, down from last year with a 4.3 month supply. Homes have been staying on the market for an average of 55 days before accepting a contract, down from 60 days last year. This signals that there are still buyers out there and that they are acting quickly to purchase the homes that are for sale.
Sales prices are climbing, with the average sales price going up $2,261 from $390,908 last September to $393,169 this September. Year-to-date average sales price is up 4.5%.
Due to the smaller sample size for Lake Wylie compared to the Charlotte Region as a whole, sometimes numbers can appear skewed. It appears that Lake Wylie is following the wider trend that the market seems to be slowing. This could be due to the storm, rising interest rates, or a general cooling of the housing market. It is too early to make this call, though this is generally the time of year when the market cools.