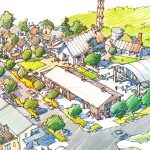 It was just announced in The Charlotte Business Journal that the much anticipated The River District will break ground later this year. Developer Crescent Communities will begin phase one of construction before the end of the year.
Crescent Communities have been doing all of the behind the scenes work for the past five years, from announcing the project, to securing right-of-way on West Boulevard, to obtaining permits, to working with the city to plan infrastructure to support the community. Now it is time to begin building the vision.
The River District is located along West Boulevard just west of the Charlotte Douglas International Airport, along the banks of the Catawba River. It comprises 1,400 acres that will be turned into a master-planned, mixed-use project in multiple phases. The entrance was the last parcel to take shape in the plans and will be on land at 9826 Garrison Road. This 7.8 acres will be the first thing you see when you enter the community.
When the project is completed, it should have up to 2,300 single-family homes, 2,550 apartments, 8 million square feet of offices, 500,000 square feet of retail, and 1,000 hotel rooms. The build out is expected to take around 10 years, but when it is completed, it will be around the size of Ballantyne.
The first phase of construction will include extending West Boulevard to Dixie River Road, the location of the town center. The developer is awaiting the last land development permits, then they will get construction started. It is currently estimated that the first homes will be ready in spring of 2023.
If you want to be the first to know about new developments in The River District, call us at 803-831-8588. If you can't wait for The River District and are ready to buy or sell a home in the Lake Wylie area, we can help. You can view current listings and create custom searches on our website here.