As soon as the liquor license is in hand, Papa Doc's Shore Club is set to open to the public in the former space of T-Bones near the Buster Boyd Bridge in Lake Wylie. This past Thursday they began a charity event raising money for Lake Wylie Children's Charity featuring a taste test of the cuisine. The sold-out charity event runs through Sunday.
Residents and visitors alike are excited for the opening after T-Bones on the Lake closed in December ending a 24 year run. This location is fantastic as you can arrive by foot, bike, car or boat to enjoy food, drinks and fellowship. Papa Doc's is also close to Uptown Charlotte, around a half-hour, so is a perfect quick escape.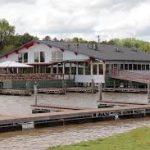 The new space has a tiki theme that you can enjoy as individuals, families, groups, or reserve for larger events. There is an oyster bar as well as lake themed decor and a large events space. With a total of 4 bars, the restaurant can seat 650 people. There is a huge outdoor deck, 38 boat slips, and many indoor seating and bar areas. The menu is large and varied so there is sure to be something to please every palate. Expect a wait at first as this is sure to be a popular spot.
If you are looking to buy a home in the Lake Wylie area, give us a call at 803-831-8588. You can view current listings and create custom searches on our website here.
To read more about Papa Doc's Shore Club, read the full article in The Herald.