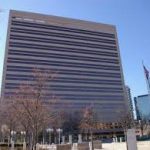 City council recently voted to approve construction on a new multi-departmental permitting facility. The new permitting facility will reside in the first floor of the Charlotte-Mecklenburg Government Center.
The space is intended to streamline the permitting process and allow all departments to work together more efficiently. City Manager Marcus D Jones said "The CLT Development Center is the product of our efforts to have collaborative partnerships with the development community. We are excited to bring new, innovative ways to work together to create great projects for Charlotte."
The CLT Development Center space will house service teams from:
Charlotte Department of Transportation (CDOT)
Engineering
Urban Forestry
Construction Inspection
Charlotte Water
Erosion Control
Subdivision
Zoning
Fire
Plan Review Coordination
The new CLT Development Center will provide the same permitting services they do now as well as expedited services for an additional fee. This is great news for anyone doing a large scale remodel or addition to their home. It will also be invaluable for new construction homes as well as custom builds as expedited services can help projects stay on schedule. The CLT Development Center should be open for business in December of 2019.
If you are interested in buying or selling a home in the Lake Wylie area, call us at 803-831-8588. To view current listings and create custom searches, click here.
To read more about the Development Permitting Center, click here.