Tullamore is a beautiful neighborhood located just minutes from the stateliness giving its residents plenty of access to both the amenities of Lake Wylie, and the benefits of city life. Tullamore offers a secluded feel in large brick houses but residents still have easy access to I-85 which can take them downtown as well as to the airport. Residents also benefit from the lower South Carolina property taxes.
Tullamore is the perfect place for families, located in the renowned Clover school district and offering many amenities both within the neighborhood and locally. The neighborhood amenities include a playground and picnic area. There are also many amenities outside the neighborhood including the popular McDowell Nature Preserve and Waterfront which offers campgrounds, walking trails, and fishing docks.
There are currently 8 homes on the market in Tullamore which represents 6.4 months of inventory. This makes Tullamore a more balanced market compared to the clover district and York county as a whole, which are both more of a seller's market.

In the last year, the average sales price for a home in this neighborhood has slightly increased but the average price per square foot has remained roughly the same. Homes on the market now range from $310,000-$420,000.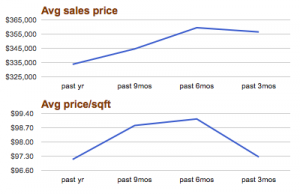 With so many local and neighborhood amenities, Tullamore is the perfect place for your next family home!