Paddlers Cove is the perfect neighborhood to take advantage of all the activities and amenities that Lake Wylie has to offer. The neighborhood enjoys being directly on the lake, complete with many easy access boat launches, while residents still get to enjoy paying the lower South Carolina taxes. Paddler's Cove is also part of the high rated Clover School District with the elementary school within walking distance. Just outside the neighborhood is a brand new daycare center as well as the new YMCA/Clover Aquatic Center. Amenities of the neighborhood include a recreation center, pool, and multiple parks and walking trails throughout the neighborhood. There are also three new proposed canoe launches directly on Lake Wylie
Paddler's Cove currently has 10 homes on the market which represents 13.3 months of inventory. This makes Paddler's Cove a buyers market. The Lake Wylie area in general is a more balanced market but this neighborhood specifically is currently a buyer's market.

In addition, in the last year average sale price of a home in Paddlers Cove has decreased even though the average price per square foot has increased.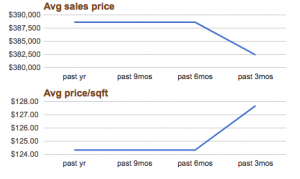 The average sale price of a home in this neighborhood is just under $400,000 but can have been sold from around $300,000 to $450,000. This neighborhood is home to many wonderful amenities and Lake Wylie activities and is definitely worth checking out!