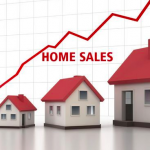 The housing market is continuing to be competitive in May according to the new data from the Charlotte Regional Realtor Association. They compile data from the Carolina Multiple Listing Services and they conclude that prices are continuing to rise as supply is tightening yet again. This makes multiple-offer situations more common especially in the under $350,000 price range.
There is a possibility that the market could cool as the FED raised interest rates this week. They also announced that they will raise them again this year and possibly a third time.
When you look at the Lake Wylie area, the situation is a little less competitive. There is a reasonable 4.1 month supply of homes here with 409 homes currently on the market. This is up 5.4% from last year at this time. A balanced market between buyers and sellers is generally considered to be 4-6 month supply. This is compared to the 2.2 month supply for the entire Charlotte region.
Home prices are still on the rise. The average price a home in Lake Wylie sold for in May was $397,696. This is up 7.1% from the same time last year. The median home price was up 3.8% from last year at this time to $340,000.
There were only 107 homes that sold in May, down from 126 in May of last year. This represents a decline of 15.1%. New listings and pending sales were both up this month. New listings went from 146 last May to 187 this May, an increase of 28.1%. Pending sales rose from 117 last May to 125 this May, and increase of 6.8%. This means that there are still buyers out there so we likely won't see much of a slowdown for at least the next month as the pending sales head to the closing table.
It remains to be seen what the market will do with rising interest rates. For now, buyers need to have the ability to act quickly when they find their perfect home. Homes are selling quicker this year than last, by 5 days so buyers need to be ready, and sellers as well.