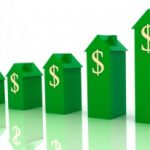 Are you ready to act quickly to get a new home? According to the monthly report by the Charlotte Regional Realtor Association based on data from the Carolina Multiple Listing Service, you'll have to. In the Charlotte Region as a whole, homes sold in an average of 36 days. This is down dramatically from just 5 years ago in 2013 when they sold in 93 days.
When you look at Lake Wylie, you have a little bit more time to look for a home as the average time between list and sale was 56 days. This is down from 119 days in June of 2013, a decrease of 63 days.
These homes are also commanding higher prices than ever before. Back in 2013, the average home in Lake Wylie sold for $299,227. Today, that same average home price is $381,048, a rise of just over $81,000. That's a whopping 27% rise in just 5 years.
Buyers are starting to feel the pressure as prices rise and inventory shrinks. Jason Gentry, the president of the Charlotte Regional Realtor Association says "Even though the Charlotte region is wedged into a solid seller's market, incredibly low supply coupled with higher prices and rising mortgage rates are presenting challenges to buyers." And mortgage interest rates may continue to rise as the FED is expected to raise rates another two times this year.
In June of 2013, there were 400 homes on the market in Lake Wylie. This June, there were 407 homes on the market. This means that this area is not feeling the pinch as much as the Charlotte Region as a whole. But, due to population growth, 400 homes in 2013 was a 7.7 month supply of inventory while 407 homes today represents just a 4 month supply of inventory.
When sellers do sell, it is a great market for them, however many people are reluctant to enter the market as they are apprehensive about if they will be able to find a comparable home. This means many people are staying in their homes rather than risk the market.
Builders are having a harder time keeping pace with demand as well. Building material costs are on the rise due to recent tariffs and building costs have gone up. This may slow the rate of new housing starts or may just shift price points for consumers.
For now, new listings in Lake Wylie are on the rise, up 28.1% from last month. Pending sales were up 30% as well so it appears that the market in Lake Wylie will be healthy for some time to come.