Children of all abilities are soon going to have a great new place to play in Tega Cay. The All Play Together playground will be a place where all children, regardless of physical challenges or lack of mobility will have a chance to enjoy themselves.
This long-awaited playground was supposed to be in Fort Mill on land donated as part of the Waterside at the Catawba neighborhood. Issues with that site including the slope were taken into account and instead the playground will be the feature of the revamped Trailhead Park in the heart of Tega Cay. The location can't be beaten as the Tega Cay Police Department and Tega Cay City Hall are just across the road. This years-long effort is going to be a great addition to the community.
Now that the site is official, All Play Together is meeting with engineers to lay out the site. They expect the playground to open in 2019. This is the first playground of its kind in the area.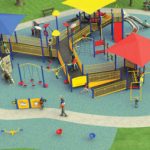 There have been many local fundraisers to help pay for the project at an expected cost of $500,000. They have about 60% of the funding secured at this time. This price tag includes improvements to the current park as well as playground equipment, bathroom facilities, trail work, and more. There will be a period of time during construction that the current park will be closed to the public.
The All Play Together playground will have structures with accessibility for all people. This means double wide ramps, multi levels accessible by wheelchair. There could be wheelchair accessible gliders, roller tables, roller slides, climbing domes, quiet space, seesaws with seating for four, and a variety of swings. The ground will have cushioned surfacing, there will be shade and fencing as well.
The city and All Play Together will meet in the coming weeks to determine the final project timeline. This playground will truly be a place for everyone to play together regardless of their abilities. To read more about this amazing playground, check out the full story in The Herald.