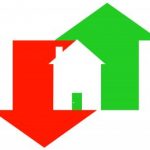 The Charlotte Business Journal has reported on the newest S&P CoreLogic Case-Shiller Index. Based on the results, home prices are starting to slow down in the metro Charlotte area. Prices rose at an increase of 5.103% which is still higher than most of the 20 metro areas covered by the Case-Shiller Index. This is the smallest gain since April of 2015 and could be signaling a slow down trend.
At the same time as we experienced the small gain in sales, mortgage rates have risen and then fallen again. In January of 2018 the rate was 3.95%, it climbed to 4.95% in November of 2018 and as of mid-March 2019 they are back down to 4.8%. This dip in the interest rates could boost home sales as has been the trend in the past.
To break down the numbers for Lake Wylie, the Case-Shiller Index only looked at one zip-code, 28278. Here is the break down:
28278 zip code, up 14.2% on price from $283,124 in 2017 to $323,428 in 2018 up $40,304
28278 down 17.8% in number of sales from 1,110 in 2017 to 912 in 2018 down 198
These are numbers for all of Lake Wylie from the MLS Report from the Carolina Regional Realtor Association:
Lake Wylie as a whole was up 5.3% from $352,304 in 2017 to $409,539 in 2018, up $57,235
Lake Wylie as a whole was up 10.1% in number of sales from 1,114 in 2017 to 1,227 in 2018, up 113
The rest of the country has seen a slow down in home sales. With the national market it appears as if it is slowly going back to "normal". This means that buyers will have more power in negotiations, but they will still have to work hard for a good deal.
If you are interested in purchasing or selling a home in the Lake Wylie area, give us a call at 803-831-8588. You can view current listing and create custom searches on our website here.
To read the full article in the Charlotte Business Journal, click here.