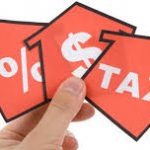 Property Taxes have been reassessed for Gaston County which affects some Lake Wylie area homeowners. We all hope for appreciation on our properties, until it's time for our taxes to be recalculated. With this most recent recalculation, Gaston County Residents will see an average rise of almost 23 percent.
The valuation is used to calculate property taxes and is based on current market value for properties. The tax rate is expected to remain the same at 87 cents per $100 of value. This means that if you have a $100,000 valuation that goes up by 23% you now have a value of $123,000. Your taxes would go up from $870 to $1070.10, a difference of $200.10. If your taxes are paid through an escrow account for your mortgage, your monthly payment should go up to account for the rise, in our example that would be $16.68 per month.
The notices for reevaluation started to be sent out this week so some residents already know what their new assessments are. For those that do not have them yet, they should arrive soon. If you can't wait, you can check Gaston County's website starting March 12th. The county website should have a link to the Tax Office's new website with the updated property values.
The tax office has not done a reassessment since 2015 when average values actually dropped by 1 percent. That was during the recession, and values have rebounded greatly since that time.
It is important to remember that the rise of 23 percent is just an average. Some homeowners will see a rise of more than 40 percent, and some will see less than the 23 percent rise. The Tax Office stated that some commercial properties are up more than 60 percent. If you feel that your property valuation has been raised in error, there is an appeal process that can be started via the Tax Office website. You can also appeal in the old fashioned way by going to the Tax Office. Appeals need to be filed within 30 days of notice. The county is expecting a large number of appeals due to the shock many residents may feel.
If you are looking for a home in the Lake Wylie area in Gaston County or any of the other counties that border the Lake, give us a call at 803-831-8588. You can view current listings and create custom searches on our website here.
To read more see the article in The Gaston Gazette.