If you think small-town living means sacrificing conveniences and modern touches then you need to take a look at beautiful Eagle Park near downtown Belmont.
Begun in 2006, Eagle Park is in the heart of Belmont and within walking distance of Main Street's charming local shops and restaurants.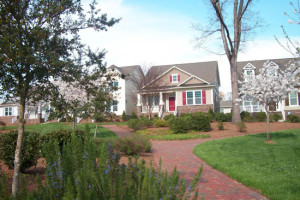 Nearby destinations include the Carolina Thread Trail, which is a regional network of greenways and trails; Belmont Abbey College; the U.S. National Whitewater Center; Daniel Stowe Botanical Garden and Crowders Mountain State Park.
However, you do not have to go far to find things to keep active. Neighborhood amenities include a playground, dog park, pool, clubhouse and fitness center. Additionally, the community  is bordered by Belmont Central Elementary and Stuart Cramer High School, so residents have access to those surrounding trails and fields.
Eagle Park homes were built by some of the area's finest builders – David Weekley Homes, Brookline Homes, Westwood General Contractors and Simonini Group.
Together, these builders contributed more than 12 floor plans from which to choose and customize. The neighborhood blends single-family homes, cottage-style homes and townhomes. The townhomes were built by Westwood General Contractors.
The homes in Eagle Park vary in size from about 1,700 square feet to the high 2,000s in size.
There are resale homes and new construction single-family homes and townhomes available for sale in Eagle Park.
Only seven homes sold in the neighborhood in the last year, averaging a sales price of just over $240,000. The average price per square foot is approximately $130.
There are currently 15 Eagle Park properties listed for sale, which is about 6 months of inventory (not including townhomes) for the community. Five of the residences are under contract as of Feb. 26. Nine properties listed for sale are townhomes, which range from 1,280 square feet to about 1,700 square feet.
Eagle Park is zoned for Page Primary for prekindergarten to 1st grade; Belmont Central Elementary for 2nd to 5th grade and located adjacent to Eagle Park; Belmont Middle School, serving 6th grade to 8th grade; and Stuart Cramer High School, also adjacent to Eagle Park.
Metro Charlotte is about 20 minutes away, but on a clear day you can enjoy a skyline view of the city without the traffic!