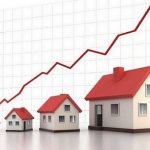 The monthly numbers are in from the Charlotte Regional Realtor Association. Their report is based on numbers from the Carolina Multiple Listing Services, Inc. They report on the entire Charlotte region, and they also break the numbers down into different areas and cities within the region.
When you look at the region as a whole, you see that home prices are still rising and inventory is declining yet again. Average prices are up 8.1% to $292,158 and median sales prices are up 7.4% to $240,000. Inventory was down 22.6% from 11,008 homes for sale last April down to 8,515 homes this April. Pending sales were up 10.7% and home sales were up just 1.6%. Homes spent just 44 days on the market before a sale and new listings were up, but just .07%.
Looking just at Lake Wylie, you can see that the story is a little bit different. Prices are down year over year as average prices fell to $392,208 representing a drop of 13.7%. Median prices were down 2.1% to $362,213.
The total number of homes on the market fell from last year at this time, from 394 to 361, a decline of 8.4%. This leaves Lake Wylie with a 3.6 month supply of homes. This is a much better balanced market between buyers and sellers than is seen in the entire Charlotte region.
Closed sales, pending sales and new listings were all up year over year for Lake Wylie. This indicates that the market here is still strong. Closed sales were up 46.7%, pending sales were up 29.3%, and new listings were up 10.6% respectively.
It's important to note that due to small sample size, one large transaction or lack of one can skew the report for Lake Wylie quite a bit. The news is encouraging that Lake Wylie still has a strong market for both buyers and sellers.