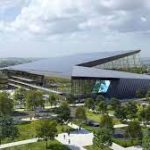 The Carolina Panthers have long been in the works to create a new practice complex in the City of Rock Hill, South Carolina, just across the state line from Charlotte. Tepper Sports which is the parent company of the Panthers released this statement on the issue:
"On February 26, 2021, the City of Rock Hill became delinquent on their obligation to fund the public infrastructure. Despite our persistent efforts throughout 2021, the City of Rock Hill failed to issue the bonds or provide the funding for the public infrastructure for the project.
"On March 18, 2022, GTRE issued a default notice and the City did not cure its default within the prescribed 30-day cure period. It is unfortunate that some recently decided to conduct a misguided, destructive public relations campaign to obscure their failures.
"We have sent notices to the City to formally terminate the previous agreements. Accordingly, we are prepared to sit down with the City and other interested parties to discuss the significant challenges ahead."
There is still hope that the project will be able to move forward, but as with many professional sports teams, the projects are highly complicated and expensive. This makes the deals for funding complicated as well as they can involve private and public funds. In this case Tepper Sports had secured $400 million in state and local incentives which also included $225 million in infrastructure improvements in and around the site. Bonds were supposed to be issued by the city of Rock Hill and were never issued which has brought the project to a standstill. Construction stalled about a month ago. The city has proposed an alternate plan to come up with the $225 million without issuing bonds. It is unclear at this point when and if the project will move forward. Until then the site sits idle while the team and the city try to come to terms.
For more information on buying or selling a home in the Lake Wylie area, call us at 803-831-8588. You can view current listings and create custom searches on our website here.