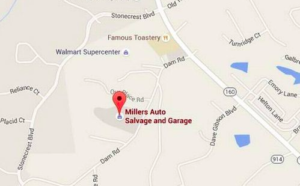 The sports, activity and entertainment landscape of Tega Cay is about to be reshaped with a whole new concept potentially changing the game.
Tons of development is on the horizon for the Tega Cay community located just south of Charlotte. The city has recently granted approval to move forward with plans on a sports and entertainment proposal drafted by Game On Development.
The Moorsetown, North Carolina-based entertainment development company is aiming to create a community gathering spot while reshaping the sports landscape of the Tega Cay community. The multi-faceted project involves taking over more than 78 acres and would include a two-level sports facility, a 14-screen movie theater complex, a 150-room boutique hotel, a four-level parking garage, a park, both medical and professional office space, retail storefronts and residential space, as well.
The sports facility alone would have eight basketball courts, four multipurpose fields, indoor as well as outdoor tennis courts, an olympic-size resort-style pool, a bowling alley, and a 35,000 square-foot fitness center to boot. Not only would the sports complex be for local residents to use and enjoy, but there have also been talks about the facility functioning as a world-class sports training site.
The current plans call for residential space to be located above commercial space, and there is also potential for an assisted living facility as part of the plan. The first phase of the entire project would include the construction of the indoor sports facility and of the hotel.
This is a very exciting concept for the city and would be a great boost for the local economy. For more details on the plan, check out the full article at CharlotteObserver.com.