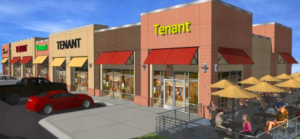 New commercial development is in the works for The Landing on Lake Wylie. The Lake Wylie area, given its strong economy and local demographic, has several companies looking to develop the area. The recent opening of Publix at the Shoppes at The Landing makes it a hot area.
The Shoppes at the Landing, a major retail hub in the community, is getting three new great businesses. Wylie Commons has broken ground on a property that will include Moe's Southwest Grill, SportClips and TK Nails Spa & Waxing.
The  building will total approximately 9,000 square feet, and will be a multi-tenant retail building that is currently seeking two other tenants to stabilize the project and to fill out the area.
The new building will be situated between S.C. 49 and Nautical Drive at the intersections with Bulkhead Way. Moe's Southwest Grill, which will be located at the far left of the project and will include patio space, will neighbor a 1,800 square foot space that would be a great fit for a large business or could be subdivided into smaller spaces. At the opposite end of the project from where Moe's will be situated lies a 1,400 square foot space with a patio that will most likely be another restaurant, coffee shop or cafe.
The entire Wylie Commons project is scheduled to be completed by August 1st with an official opening slated for no later than October 1st. The one and a half acre site will offer 62 parking spaces, which should accommodate the additional retail, dining and business that Wylie Commons is bringing.
For more details on the development at the Shoppes at The Landing, read the article here.
And, be sure to take a look at all of the spectacular residential property available for sale in the Lake Wylie area by clicking the link to our website, or call 803-831-8588.