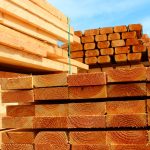 Due to slowdowns at the factories and increase in demand from builders and home improvers alike, lumber prices are up over 200% from pre-pandemic prices. These prices impact the entire industry helping drive already high prices even higher still.
With many people spending more time at home during the pandemic, home improvement stores have seen profits soar as homeowners decided to tackle projects. Many of these ranged from painting to bathroom remodels, to creating home offices, to dedicated school rooms. Most of these didn't need lumber, but there have been shortages of items, and long lead times for special order items as well.
For the larger jobs, getting a contractor is increasingly difficult with many so busy that they can't even return calls for potential new clients. Contractors are also having a hard time pricing jobs and accurately predicting completion dates due to lags in supply shipments and scheduling demands of sub-contractors.
New construction is facing lags as well, and is having to pass off increased costs of construction onto the buyers. This is causing cost and timeline overruns on many new construction homes. Most new construction neighborhoods are experiencing long wait lists for homes as there is not much supply, but there is tremendous demand.
These slowdowns don't just affect people doing renovations on their homes. You also see slowdowns for people trying to get repairs done. This can even affect a typical real estate sale when you are trying to get repairs done. This could lead to sellers offering money towards closing costs instead of making a repair because they can't get it done in a timely manner. We are also seeing buyers waiving repair negotiations to make strong offers in our competitive market.
If you are ready to buy or sell a home, call us at 803-831-8588 to get started on the process. We can help you get your home ready to sell for top dollar, or help you get the best deal when buying a new home. You can view current listings and create custom searches on our website here.