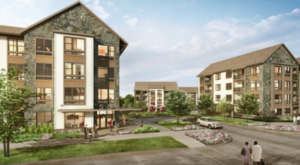 Steele Creek's lovely community of Berewick is getting a new apartment complex that will be located right next to the Berewick Town Center's village green near the community's retail center.
The shopping center will be anchored by the new Harris Teeter that is scheduled to open in October.  The 53,000 square-foot grocery store will be a big addition to the community and will certainly help to accommodate the new residents that will be moving in once the new apartment community of Solis Berewick  is completed.
The site of Solis Berwick is 13.8 acres and was purchased for $4.7 million this summer by Terwilliger Pappas, and the apartment development company has finally broken ground on the new Steele Creek 275-unit community.
Residents here will be able to take advantage of fantastic amenities, including a clubhouse, a poolside pavilion with a fire pit, a fitness center, a pet park, and more. Initial apartment homes and amenities are slated to be completed by the middle of 2017, with the entire community finished by early 2018.
Steele Creek is a charming town that borders Lake Wylie and is conveniently located close to interstate 485  and not far from the airport, and offers one of the quickest commutes to uptown Charlotte.  Steele Creek also offers plenty of great shopping and dining, and the new Solis Berewick apartment community will make a wonderful residential addition. For more details, be sure to read the full article at bizjournals.com.
http://www.bizjournals.com/charlotte/news/2016/09/06/terwilliger-pappas-breaks-ground-on-berewick.html