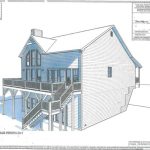 It used to be that new construction homes were available for a long time before they went under contract. Over the last few years, there has been a chronic lack of supply as builders couldn't keep up with demand. Now there are supply chain issues plaguing new construction with even more issues. This is why it is important to know your builder and get in early on new construction developments or find a custom homebuilder so you can buy land and build your dream home.
Sometimes it is possible to find a new construction home in an existing neighborhood. These late construction homes that are not part of the initial build out of a neighborhood can be a great purchase. Riverwood in Lake Wylie has one of those gems. The neighborhood was completed over five years ago, but there is one lot available for a new construction home ready to be built on a waterfront lot.
This rare opportunity to build a home has plans in the listing for 4 bedrooms, 3.5 bathrooms, and a two car garage in 2,704 square feet of living space. The buyer will work closely with the builder and would have options to customize the space to meet the needs of their family.
Over the past year, six homes changed owners in Riverwood. They sold for between $415,000 and $500,000 with an average price of $446,716. The currently listed new construction home is listed for $925,000 but is a waterfront home with a dock on the water permitted. Waterfront homes typically command a premium and many on the lake are listed for well over a million dollars.
For more information on this new construction home or about buying or selling a home in the Lake Wylie area, call us at 803-831-8588. You can view current listings and create custom searches on our website here.