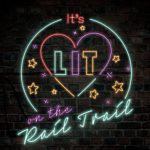 The interactive light show on the Rail Trail is here for just a few more days and it is worth checking out. Titled "I Heart Rail Trail: Lights", this outdoor show along the rail trail is an interactive light installation that is here until March 7th. This means you have a few more days to check it out before it's gone.
There are 6 different exhibits along the rail trail spanning from Carson Boulevard to Atherton Mill in SouthEnd. The installations are the work of many local artists in partnership with the Charlotte Rail Trail, Charlotte Center City Partners, and U.S. Bank. It is part of the I Heart Rail Trail initiative which should bring many projects to share with the community.
Below is a brief description and location of the six installations:
Fairy Ring – Atherton Plaza, 2102 South Boulevard – 80 hand-sculpted mushrooms – Artist Meredity Connelly
Seating ReArrangements – Dilworth Artisan Station Plaza, 118 E. Kingston Ave – ten motion illuminated chairs, socially distanced – Artist Ellie Richards
Lover's Lighthouse – 1616 Camden Road, above Leroy Fox – illuminated lightbox with slowly changing LED lights – Artist Sharon Dowell
COVID Confessionals – Dimensional Fund Advisors Plaza, 1616 S. Tryon St. – Covid-19 themed structure with socially distanced walls – Artist Rachel Dickey
Threads – Charlotte Urban Design Center, 1507 Camden Road – stainless steel spools from a textile mill – Artist Kit Kube
Light Beans – 1100 South Plaza, at the apartment splash pad – acrylic semi-circles reminiscent of angler fish – Artist Luvly Moon
As part of the experience, guests may hear music, see performers, and more surprises. Interaction with the art is encouraged, but social distancing, masks, and hand-washing are required. More events are planned throughout the year as well.
For more information on buying or selling a home in the Lake Wylie area, call us at 803-831-8588. You can view current listings and create custom searches on our website here.