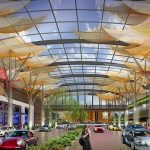 Early in July, a new casino will open in a temporary location in Kings Mountain. The casino, called Two Kings Casino Resort, has long been awaited and is part of the Catawba Indian Nation. It is a great day trip from Lake Wylie and is perfect for those days when you are recovering from a sunburn, or on rainy days.
The temporary facility is located off exit 5 on Interstate 85 near the Kings Mountain Boulevard interchange. It is a 29,000 square foot complex with 500 slot machines that will bring in revenue for Cleveland County, the town of Kings Mountain, and the Catawba Tribe in North and South Carolina. The permanent facility will have an additional 1,300 slot machines, games tables, and sports betting. The casino will eventually employ thousands of people, but for now they are hiring hundreds of people to staff the temporary location.
Food and drinks will be available from an onsite bar in addition to an outdoor patio with food trucks. Eventually there will be restaurants and additional bars with enough seating capacity for 940 people.
The final location is currently being developed and is expected to be complete in 2022. Until then, expect the casino to be crowded right after launch as everyone rushes to check it out. It will be open 24/7 so you can come late in the evening or early in the morning to see it when it is not so crowded.
For more information on buying or selling a home in the Lake Wylie area, call us at 803-831-8588. You can view current listings and create custom searches on our website here.