If you are looking for a new construction home in a lovely York County subdivision, Lauren Pines might just be the perfect fit. It is a quiet community that offers tranquil country living surrounded by hundreds of acres of farmland and woodlands. Home prices currently listed range from $282,900-$347,900 and offer large lots with plenty of privacy and space.
There is no lack of biking and hiking trails throughout the community, and there are limitless opportunities to view the wildlife in the area. And while Lauren Pines offers a relaxed, country lifestyle, it is still conveniently located just minutes away from I-85, which provides direct access to Charlotte. Gastonia is also just a 20-minute drive and offers lots of fantastic shopping and other conveniences.  Plus, Lauren Pines residents can take advantage of South Carolina's low taxes.
If you are looking to buy, Lauren Pines currently has six homes on the market representing 18 months of inventory.

This level of inventory is notably high as home sales have been slow, especially compared with the inventory in York County as a whole, which has five months of inventory.
While we definitely have a buyer's market in Lauren Pines, there has been a slight uptick in the average price per square foot of homes in the past three months. The average sales price however, has seen a slight drop.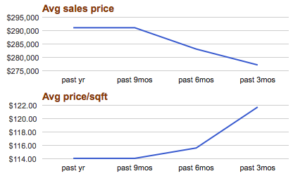 This is a beautiful neighborhood that offers a blissful escape from the congestion of the packed suburbs and the busy city. Take a look at all Lauren Pines has to offer.