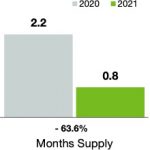 The May numbers have been published by the Canopy Realtor Association and they look very similar to previous months. There is still a severe lack of supply of homes, with high demand driving prices higher and we are still seeing homes sell for more than list price. There are new homes coming on the market, but so far supply has not caught up with demand.
In the Charlotte area as a whole, there are now just 3,104 homes for sale, representing a 0.6 month supply of homes. They are selling for an average of almost $395,000, up 27.4% from last year at this time. Sellers are receiving on average 101.6% of the list price for their homes. Homes are selling quickly with the average home going under contract in 16 days, down 55.6% from last year.
When you look at the numbers for the greater Lake Wylie area, you see that we are following the same trend. There are 130 homes on the market right now representing a 0.8 month supply of homes. The average sale price rose 36.2% from last May to just over $515,000. Sellers are typically getting 101.8% of the list price for their homes. Homes are receiving a contract after an average of 18 days on the market.
When you look ahead based on this report, you can see that there are more new listings than last year at this time, 34.6% more, but we still have not recovered from a slow spring. We may see more people listing homes over the summer so they can get settled in new schools before the next school year starts. If we get more supply, it could finally be more than the demand and we could see prices start to stabilize. Until then, expect multiple offer situations and offers above list price to continue.
Give us a call at 803-831-8588 to learn more about buying or selling a home in the Lake Wylie area. You can view current listings and create custom searches on our website here.